This map resource from Oakland Transportation Management Association highlights transportation-related construction projects, as well as many transit, utility, institutional and private development projects that may impact travel in, around, and through Oakland during construction or create long-term multimodal improvements upon completion.
Know Before You Go
This map provides commuters with a visual representation of active and planned construction that may impact their travel routes into, around, or through Oakland. Through this resource, you will find not only detailed construction project information, but valuable commuter resources that can assist in travel decisions – helping to mitigate congestion and improve air quality in our region by encouraging the use of multimodal travel options other than the single occupant vehicle like transit, bicycling, walking, carpooling, vanpooling, micromobility, and telecommuting whenever possible.
Where does this information come from? Maintained by OTMA using information provided by state, county, city, and local agencies, institutional partners, private developers, and other community partners.
Map Legend

How To: Use the filters on the left side of the map to show only active or planned projects from six categories: Roadway improvements, bridge, transit, multimodal infrastructure like bicycle/pedestrian improvements, as well as institutional and private development. Enable the "Completed Projects" filter (grey) to also display a few additional projects that have added or improved multimodal routes and connections in the area, as well.
Making Smart Transportation Choices in 2022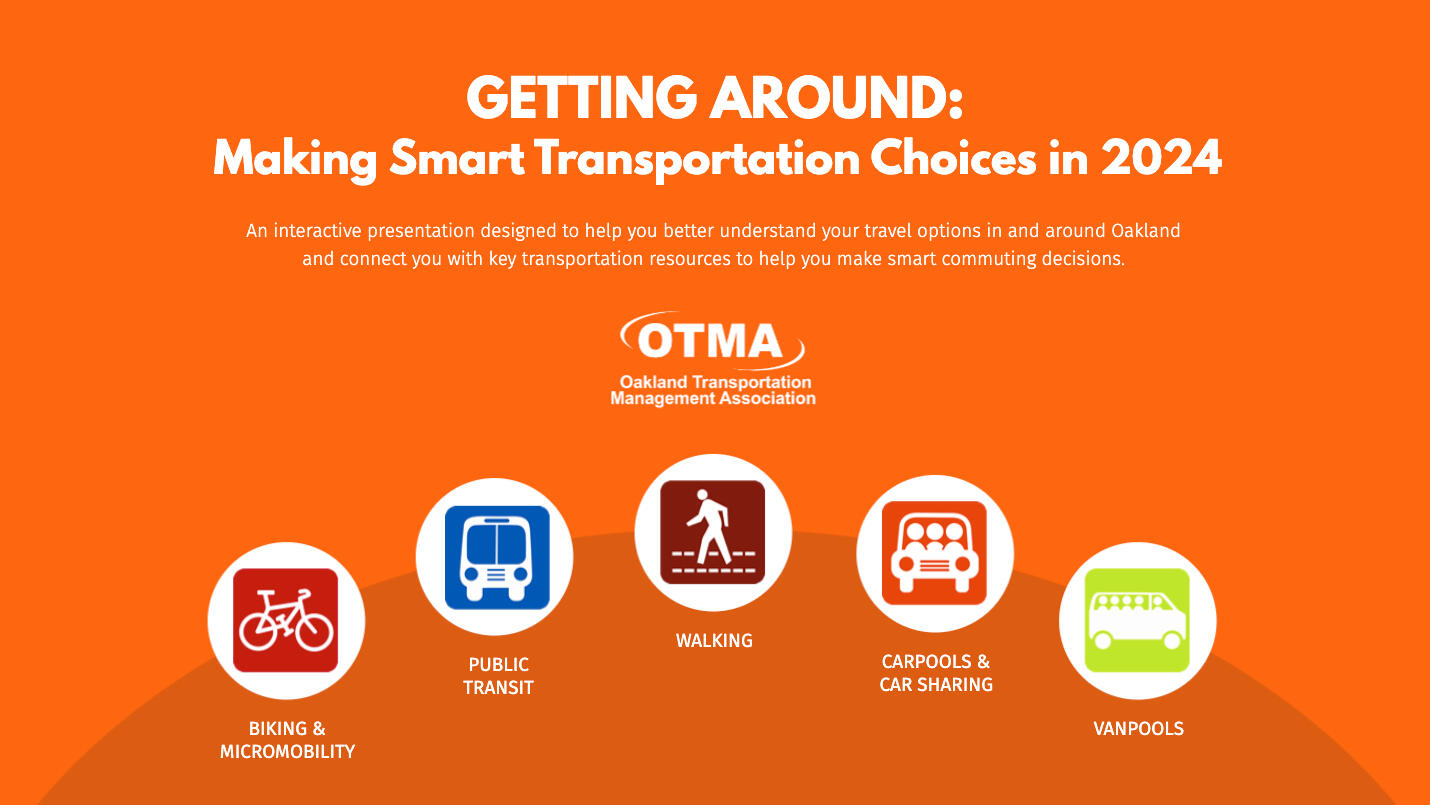 Want to learn more about the multimodal options you have for getting into, around, or through Oakland? Check out our Getting Around: Making Smart Transportation Choices presentation here or reach out to us to ask questions directly. We're happy to help anyone who wants to explore alternatives to a single occupant vehicle when they travel!And if you're a business owner looking for help to incentivize your employees to utilize alternative modes of transportation, we've got plenty of educational materials and other resources that you can share, so don't hesitate to ask.
Sign up to Receive Email Alerts
There's never a shortage of active construction here in Pittsburgh and keeping up with it all can be difficult to say the least, so let us do the research for you! The simplest way to keep up-to-date with active construction is to subscribe to our traffic, transit, and construction advisories. From lane restrictions and closures to vehicle/bike/ped detours, transit impacts, and more, we've got you covered.
Our advisories are an easy way to "know before you go" so that you can plan ahead to avoid congestion, adjust your travel routes, choose the best transportation mode for your trip, and ultimately contribute to improving air quality in our region by making smart transportation choices. Aggregating information from multiple sources, we typically only send 2-3 emails per week, and we'll never share your contact information, so subscribe with confidence! Those alerts and more go out on our social media feeds, so you can follow us there, too.
Success!
Great, you've opted in to our email advisory list and will begin receiving alerts this week.Have you followed us on social media yet? We also post more than just traffic alerts on Twitter and Facebook, too, so following us there is a great way to stay in tune with more transportation related news and advisories beyond your inbox.